CAMHS Crisis Connect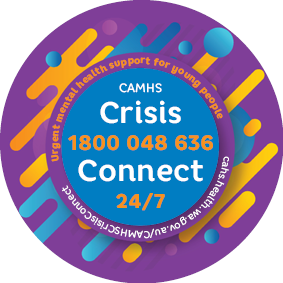 Do you have a child or young person in the Perth metropolitan area who:
needs urgent mental health advice?
is in crisis and needs urgent mental health support?
needs to go to an Emergency Department to get help?
CAMHS Crisis Connect provides phone and online videocall support for children and young people who are experiencing a mental health crisis, as well as support and advice to families, carers and professionals in the community.
CAMHS aims to provide expert help to children and young people quickly, when they need it most.
This includes:
Specialist urgent tele-mental health support
Crisis management
Face to face mental health and risk assessment at PCH Emergency Department or via telehealth
Follow up within 24 hours of receiving an assessment or discharge from PCH
Dedicated intervention / follow up clinic
Who can access the service in the metro area?
The service is available to:
children and young people
Support, advice and guidance for referral for:
families and carers
general practitioners
school psychologists
teachers
community nurses
health professionals
For 18 years or over
If you are aged 18 years or over, please call the Mental Health Emergency Response Line (MHERL) on 1300 555 788.
Rural, regional and remote services
In rural, regional and remote areas of Western Australia, the WA Country Health Service (WACHS) Mental Health Emergency Telehealth Service (MH ETS) provides WA country doctors and nurses with access to specialist clinicians via video conferencing technology 24 hours a day, 7 days a week.
This service is used when caring for people presenting with acute mental health, drug or alcohol conditions to one of the 83 Emergency Departments located across country WA.
The WACHS MH ETS accepts Emergency Department referrals for all age groups (children, young people, adults, older adults).
Out of hours mental health support is also available for the community via Rurallink, a specialist after hours mental health telephone service for people living in rural, regional and remote communities.
Rurallink is available 4:30pm – 8:30am, Monday to Friday and 24 hours a day on weekends and public holidays by calling 1800 552 002.
How does the CAMHS Crisis Connect service work?
This is a free service, available by calling 1800 048 636, 24 hours a day, 7 days a week.
The service is operated by a mental health clinical nurse specialist and consultant child and adolescent psychiatrist.
For a tele-mental health assessment, you will need a computer or a phone with a microphone or camera, a reliable internet connection and access to an up to date web browser.
Find out more about how to use telehealth
What will happen when the assessment is complete?
Every tele-mental health assessment will include an initial mental health assessment, risk assessment and a discharge plan.
Young people, families and carers may be referred to their GP, other private facilities, a community mental health service or advised that an admission to an inpatient mental health unit may be required.
CAMHS Crisis Connect incorporates an intervention / follow up clinic that can provide time-limited psychological therapy (4-6 sessions over 2 weeks) to address the immediate needs of the young person through early intervention and to reduce the risk of escalation.