Improving aftercare for young people at risk of suicide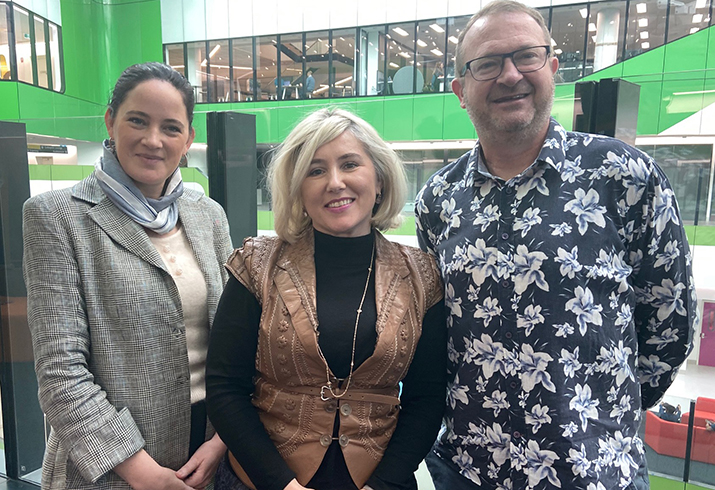 A collaborative research team has secured federal funding to examine ways to improve the experience that children and young people have when they present to hospital emergency departments for an acute mental health crisis with the aim of reducing the rate of youth suicide.
The team which includes researchers from Telethon Kids Institute, PCH, the WA Country Health Service, the Geraldton Regional Aboriginal Medical Service and Youth Focus will also examine ways that aftercare services are delivered to patients who are admitted to hospital for self-harm incidents.
Suicide Prevention Australia (SPA) has allocated funding for the project, which will take place in Perth at Perth Children's Hospital, Geraldton and Albany.
Clinical Psychologist at PCH and Honorary Researcher at Telethon Kids Institute Zamia Pedro said acute mental health presentations to emergency departments have continued to escalate.
"This project aims to evaluate a brief intervention that can improve the experience for children, adolescents and their carers at the time of a mental health emergency, and also support their transition through to accessing the ongoing care they need in the community," she said.
"We aim to better understand this prevalent and complex problem in order to develop strategies to reduce the rate of deliberate self-harm and suicide in our children and youth."
This project builds on 'EXPAAND', a research project currently being conducted at PCH by Ms Pedro, Head of Service, PCH CAMHS - Paediatric Consultation Liaison Program /Gender Diversity Service, Dr Yulia Furlong and Consultant Paediatrician, Department of General Paediatrics, Dr Colin Derrick.
The PCH EXPAAND project is aiming to make the assessment of children and adolescents at the time of an acute mental health crisis more therapeutic and achieve better outcomes.
The funding received from SPA will allow investigators to test the same intervention across metropolitan and regional settings, and across cultural contexts.
WACHS Psychiatrist, Associate Professor Mathew Coleman said he was pleased to see this collaborative research into introducing evidenced-based interventions being trialled in regional areas, with an emphasis on the benefits of young people engaging in quality aftercare.
"We know there is room to improve youth mental health service in country WA and this project will ensure we are providing the best outcomes for young people living in the regions through evidenced-based, best practice," he said.
Telethon Kids Institute researcher, Dr Nicole Hill, said there was well-established evidence that young people who self-harm are at much greater risk of suicide within one year of being discharged from hospital.
"We want to make sure that young people aren't falling through the cracks and that they're engaging with adequate services after being discharged from hospital," she said.
The project will seek to identify what gaps exist in clinical and community aftercare, and what interventions would help reduce recurrent self-harm and suicide.
Importantly, the study will also involve an audit of mental health services in the community, examining wait-list times and other factors that might impact a young person's ability to access those services.
Suicide is the leading cause of death for young people under the age of 25.
Image | Zamia Pedro, Dr Yulia Furlong and Dr Colin Derrick