Refugee Week – Celebrating the Year of Welcome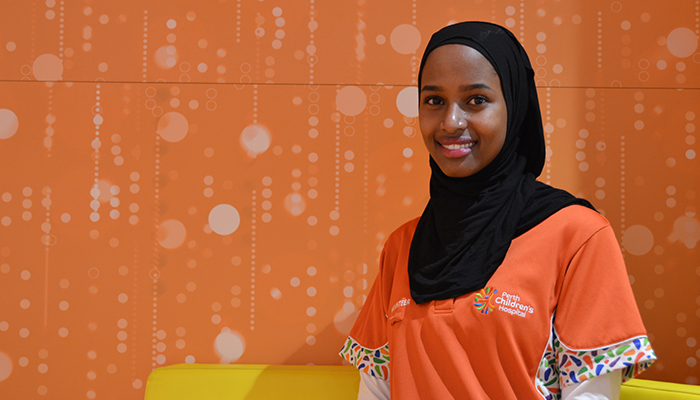 International Year of the Nurse and Midwife celebrates the invaluable contribution that nurses and midwifes make to global healthcare. At CAHS, we're profiling the diversity of roles and people that make up our nursing services.
Meet Nimo Hussein. Nimo is one of our dedicated volunteers at Perth Children's Hospital (PCH) who has ambitions of becoming a nurse one day.
Tell us about your background
I was born in Kenya and my family background is Somali. We moved to Kenya as refuges for a better lifestyle, but it wasn't any better, so in 2005 we migrated to NSW. This provided as with a better lifestyle, access to health services and education. It was a dream come true! In 2009 we moved to Perth as it has a larger Somalia community.
What inspired you to consider nursing?
My country lacked in healthcare services, basic medications and treatments. This motivated me to become a nurse so that one day I can go back to my homeland and use my skills and knowledge to help my people. I also got inspired by the care we received as a refugee in Australia when we arrived. Volunteering at PCH has inspired me to become a nurse one day.
Why did you start volunteering at PCH?
To gain knowledge and experience as I want to become a nurse one day.
To help others.
To make a difference.
To connect with people.
To feel involved.
Do you believe your experience as a volunteer will provide you with a different perspective as a nurse one day?
I believe my experience and knowledge I have gained as a volunteer will help me to better my skills as a nurse, such as communication and working as a team.
Do you have a specific area of nursing that interests you?
A specific area of nursing that interests me is the neonatal intensive care unit. In general, I love helping children!
What do you hope to achieve as a nurse?
What I hope to achieve as a nurse one day would be able to build therapeutic communication with all my patients and their family no matter what race, religion or background. To be an act of hope to those who are ill and to ease their worries and struggles.
If you had a theme song, what would it be?
If I had a theme song it would be Don't Worry, Be Happy by Bob Marley because you don't have time to worry about problems, life is too short. You should just smile at life and take whatever life gives you.