Food Allergy Clinical Research Program
Project overview
The PCH Food Allergy Clinical Research Program aims to improve the health and wellbeing of WA children and their families by reducing the burden of food allergy. This program leverages off the expertise of a diverse team of allergy/immunology specialists, general practice, emergency medicine, dietetics, nurses and scientists to create a clinical and translational research program for food allergy at Perth Children's Hospital.
Project aims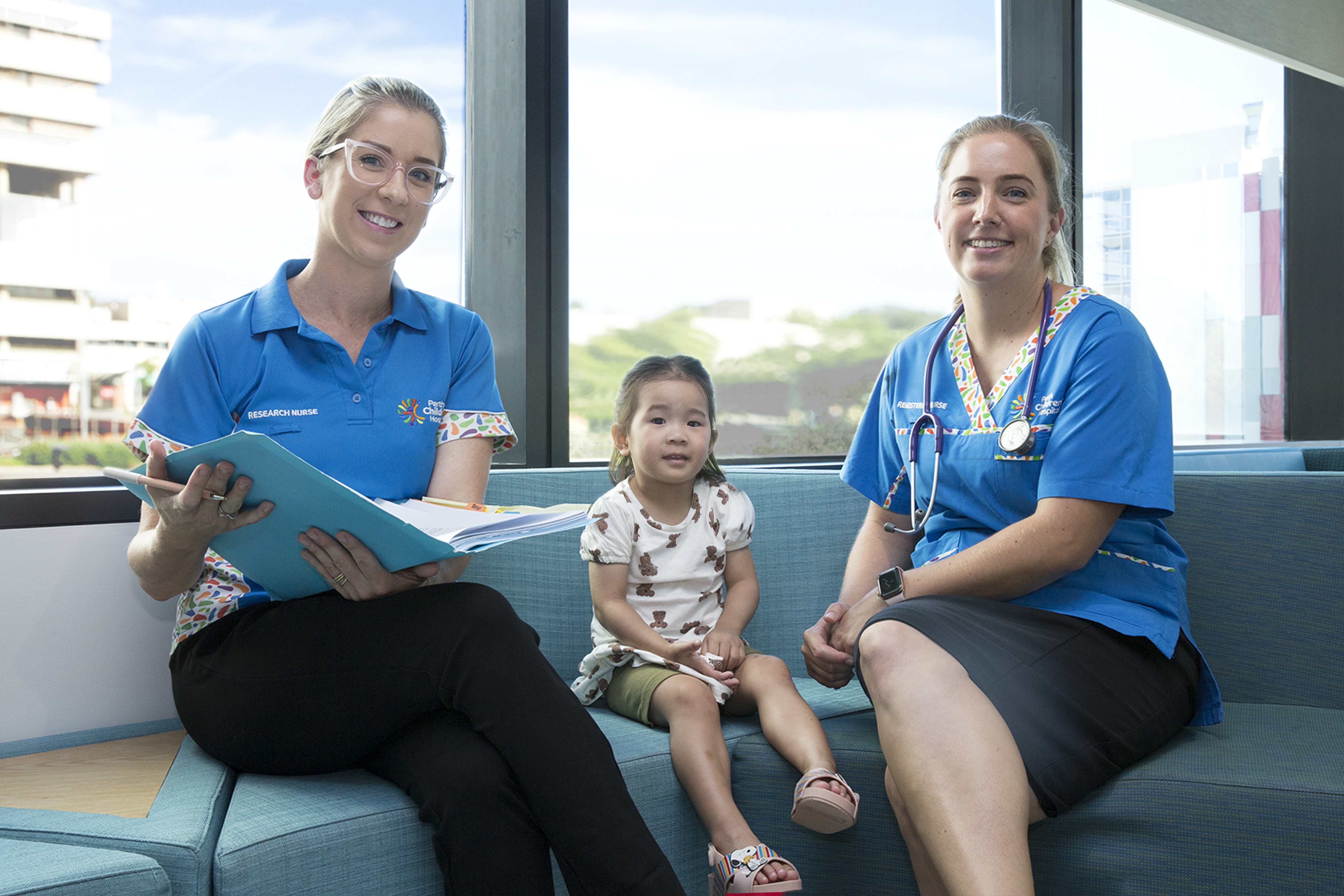 Image | Rachael Wallace, Bianca Le, Ashleigh Kenworthy
Improve timely access to high-value care to families living with food allergy

Report and monitor the incidence of food allergy in 12-month old infants in Western Australia using SmartStartAllergy (SSA), a novel SMS and smartphone-based application embedded in general practices across WA.
Implement new collaborative community-based models of care in partnership with GPs including streamlined access to timely specialist advice.

Provide treatment opportunities for West Australian children with food allergies

Conduct practical food-based trials of oral immunotherapy (OIT) to demonstrate efficacy, safety and tolerability of OIT in our WA community and support translation to practice.
Participating in national and international investigator-initiated and industry-sponsored studies for the treatment of food allergy.

Engage with consumers to create a clinical registry for children with food allergy. This will measure outcomes that are important to patients, providing real world evidence for the most effective ways to manage food allergy and improve quality of life for children and their families.
Current studies
To hear more about our current and any upcoming research studies, please register your interest or email FoodAllergyResearch@health.wa.gov.au

Recruiting in 2022
Early Peanut Immunotherapy in Children (EPIC) - EPIC peanut allergy trial launches at PCH – Oral immunotherapy for children with peanut allergy, <5 years of age.
Early Reintroduction of Nuts for ImmunothErapy (ERNIE) – Multi-nut oral immunotherapy for children under 5 with allergy to one or more tree nuts +/- peanut.
Consumer Anaphylaxis Simulation Training – Scenario-based training in anaphylaxis management for parents and carers of children with severe allergies.
Peanut allergy treatment trial for 6 to 17 year olds (industry-sponsored, pending site approval).
Ongoing studies, not actively recruiting
SmartStartAllergy (SSA) - Piecing the paediatric food allergy puzzle together
Viaskin Peanut patch – DBV Technologies
Peanut and Probiotic Oral Immunotherapy (PPOIT) study, now in long term follow-up
Project Researchers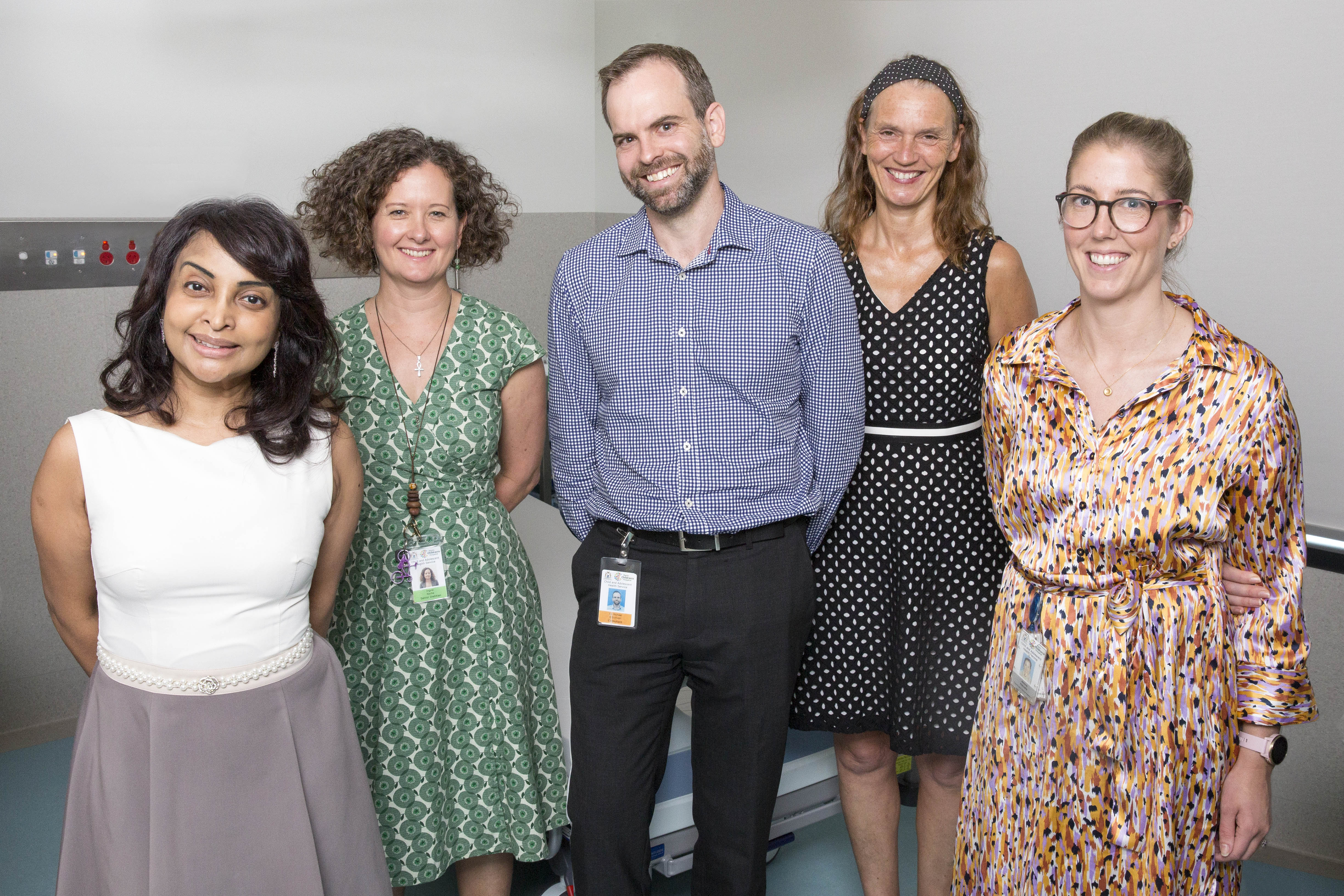 Image |
Meera Thalayasingam, Ingrid Roche, Michael O'Sullivan, Kristina Rueter, Jessica Metcalfe
PCH Food Allergy Program is led by Dr Michael O'Sullivan, Immunologist at Perth Children's Hospital, in collaboration with clinicians and scientists from PCH, Telethon Kids Institute, UWA and general practice.
Dr Michael O'Sullivan – Lead investigator
Dr Jessica Metcalfe – Postdoctoral Scientist, Senior Research Coordinator
Dr Alan Leeb – General Practitioner
A/Prof Kristina Rueter – Paediatric Immunologist and Emergency Physician
Dr Meera Thalayasingam – Paediatric Immunologist
Dr David Martino – Postdoctoral Scientist, TKI Team Lead
Ingrid Roche – Dietitian
Professor Susan Prescott – Paediatric Immunologist
Dr Samara Baldwin – Paediatric Immunologist
Rachael Wallace – Clinical Research Nurse
Samantha Thomas – Clinical Research Nurse
Ashleigh Kenworthy – Clinical Research Nurse
Sarah Miller – Research Assistant
Dr Jaslyn Ong – Research Fellow
Dr Abigail Hudson – Study Doctor
Partners
Funding Partners
WA Health (through the Western Australian Child Research Fund and Clinical Simulation and Training Advisory Network)
NHMRC.