Dynamic duo bring leading international bone marrow transplant experience to Perth Children's Hospital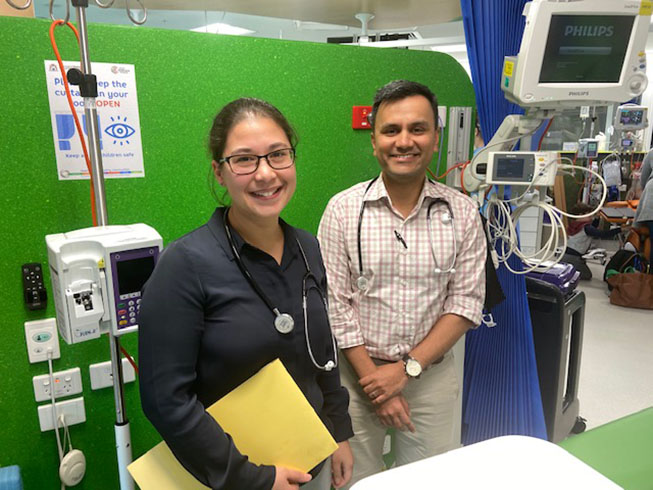 Two new cancer and blood disorder consultants with highly specialised bone marrow transplant training are joining our Department of Paediatric and Adolescent Oncology and Haematology.
Dr Michelle Ng and Dr Vasant Chinnabhandar are united in life as a married couple and in their shared passion for work and are part of an select group of paediatric bone marrow specialists in Australia. They have relocated to Perth following a competitive appointment process after completing specialised fellowship training at the University of Minnesota in the United States (US), an internationally renowned centre for bone marrow transplants.
Dr Ng and Dr Chinnabhandar both expressed excitement about their new appointments at PCH, particularly given the change and growth within their speciality field at this time.
Within the field of bone marrow transplant each doctor brings a distinct sub-speciality interest to the PCH team. Dr Ng's long-term ambition is to advance inherited metabolic disorders research in Australia where bone marrow transplant is playing an increasingly important role in treating non- cancer related disease.
Dr Chinnabhandar is keen to pursue his research interests in cellular therapy, particularly CAR-T cell therapy, which involves reprogramming the immune system to target cancer.
"We have seen firsthand how effective these therapies can be in treating kids in the US and the positive impact they can have," Dr Ng said. "We hope to be part of developing similar therapies at PCH."
Professor Nick Gottardo, Head of Oncology and Haematology at PCH is delighted to welcome the couple to his team, particularly since PCH is one of only five Paediatric Bone Marrow Transplant Centres in Australia.
"The knowledge and experience Dr Ng and Dr Chinnabhandar gained from working in one of the largest Bone Marrow Transplant Centres in the world, using cutting edge treatments like CAR-T cell therapy, will help us to make further gains in achieving better outcomes for our patients at PCH," Professor Gottardo said.
The couple said they are both driven by a desire to improve the quality of life and long-term outcomes of their patients.
"We believe this is a great time to join PCH given the opportunity we have to be part of exciting new treatment strategies which we know will only benefit our patients," Dr Chinnabhandar said.