Celebrating our nurses: Chelsey Catchpole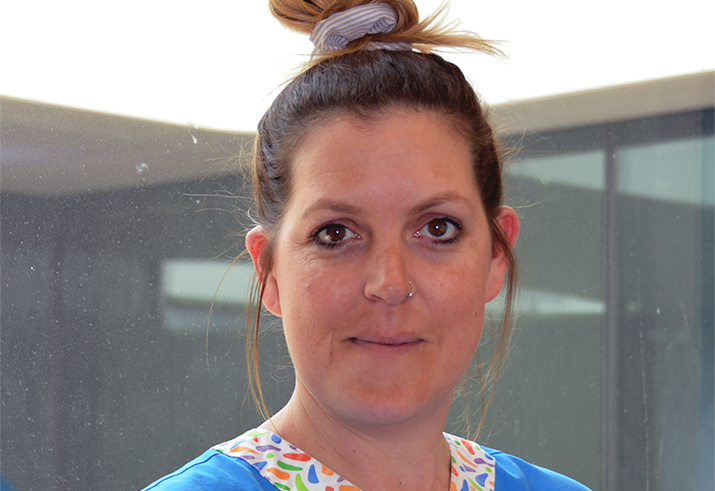 International Year of the Nurse & Midwife celebrates the invaluable contribution that nurses and midwifes make to global healthcare. At CAHS, we're profiling the diversity of roles and people that make up our nursing services.

Meet Chelsey Catchpole. Chelsey is the Staff Development Educator for Ward 5A, CAMHS Inpatient Unit at Perth Children's Hospital.
Tell us about your background and how you became a nurse
Before I became a nurse, I worked in lots of different roles including as a waitress, retail assistant, health care assistant, working on a sheep station… however while travelling throughout Australia when I was in my 20's, I decided to stay in Perth and applied as an international student to complete my nursing degree. I am a real 'people person' and love being able to help, so nursing just seemed to fit. I love the variety it brings and the wonderful stories I get to be a part of.
What made you want to be in a leadership role?
I didn't ever think I would want to be in a leadership role, but my passion and advocacy for excellent patient outcomes led me to the role I am in. I feel very lucky to work for the team I'm in. To be able to train and educate my team, as well as patients and families is a real honour!
Which one of your personality traits has been the most useful in your work?
Empathy, definitely. The ability to sit with another's perspective, to be non-judgemental and to really be with someone on their journey - especially when they are in crisis and struggling is such a major part of what we do every day.
What's a typical day for you?
There isn't a typical day for me, maybe that's why I love my job so much. I could be on the Ward, eating breakfast with the young people one minute, training staff, running study days, working with families and empowering them, running workshops, working with universities supporting graduate nurses and undergraduate students….the list goes on!
What do you want to achieve in the next year?
In the next year I would like to complete my current post graduate course in Health Leadership as well as a nice holiday!
What do you work towards in your spare time?
In my spare time (I don't know how much I have!) but it's filled with family, friends, and fun... lots of camping, beach days, walking the Great Dane/Bull Mastiff and circus tricks.
What is something that most people learn only after it's too late?
Self-care! It's so important and without truly allowing some time to look after ourselves we are unable to look after others.
If you had a theme song, what would it be?
It would have to be the theme tune from the A team... goes without saying!
Anything else you would like to mention?
Have a great Mental Health Week and look after each other!