Surfing lessons show promise as therapy for children with chronic conditions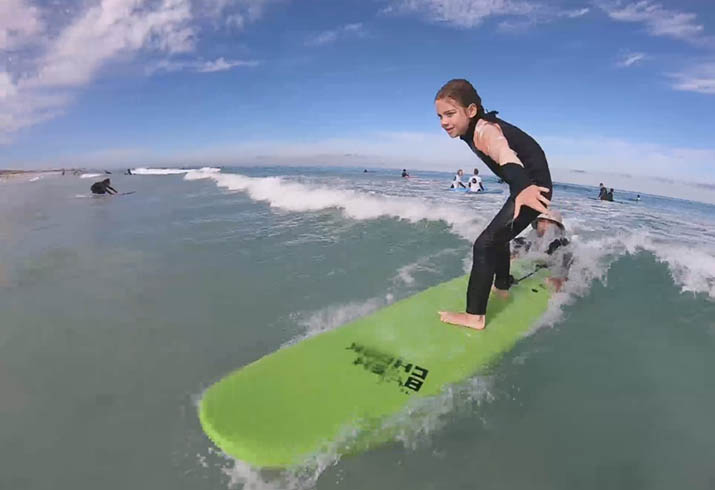 A Perth Children's Hospital (PCH) pilot research project has shown promising signs that surfing could prove effective as a therapy for children with chronic conditions.
The 'Blue Healer' project led by Senior Clinical Psychologist at PCH, Joanna White, is the first of its kind in the world to use surfing as a family-based intervention to improve the lives of patients with cystic fibrosis (CF).
The project is based on evidence that children with a chronic condition are known to be at two to three times greater risk of developing a mental health issue than their healthy counterparts.
Ms White said the pilot program found overwhelmingly positive benefits for the entire family with improved physical and psychological wellbeing for patients and improved family relationships overall.
"We also know supporting these children creates additional burden on families which can lead to higher rates of family stress.
"Creating a positive impact on the whole family means there's a greater chance of long-term benefit to the child's wellbeing," said Ms White.
Nine-year-old Mary Rogers and her parents were one of 15 families who took part in the pilot project.
Rachel Rogers said her daughter loved the surfing experience and gained a huge amount of confidence and skill from her surfing lessons.

"We also really appreciated being offered a family activity because it was not only fun but it acknowledged the demands on any family caring for a child with a chronic disease.
"It takes a lot of work to keep Mary healthy, such as physio twice a day at home but participating in this research project introduced us to a fun and positive activity for our family," said Ms Rogers.
The pilot project was funded by the Perth Children's Hospital Foundation. PCH Foundation CEO Carrick Robinson said a holistic approach to care is known to help children recover quicker.
"Clinicians and families are already seeing the positive impact that this surfing intervention program is having to aid in children's recovery.
"As the funder of the program, we're now exploring options with the Perth Children's Hospital to expand the program into other areas of care so that more WA kids can get well and stay well," said Mr Robinson.
The research team is hoping to secure funding to expand the surfing program to a larger number of participants including children with other chronic conditions.
Image | Surf instructor Kristoffer Starke from Go Surf, with Kris Rogers and his daughter, Mary.