BEE pain free study receives ACTA award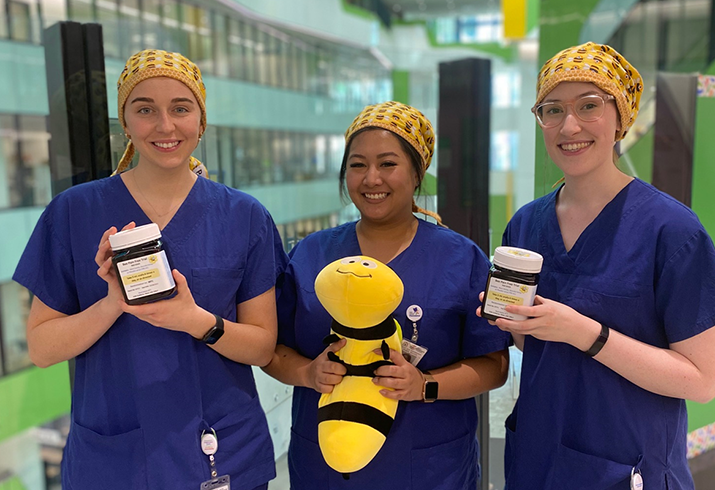 Research Assistants from the BEE Pain Free trial (l-r) Megan Dodd, Julie Nguyen and Emily Bell
The Anaesthesia Research team is buzzing following their success in the recent Australian Clinical Trials Alliance (ACTA) Awards 2022.
The team won the runner-up award in the Consumer Involvement category for their BEE Pain Free trial. The trial evaluated the effectiveness of honey as a natural pain management treatment for children after tonsillectomy.
The team, led by Professor Britta Regli-von Ungern-Sternberg, developed a randomised control trial to investigate the pain management properties of different types of local honey taken for seven days after the operation.
The trial involved 400 children across Perth Children's Hospital, Fiona Stanley Hospital and St John of God Subiaco. All children were followed up for two weeks, post-surgery.
The trial followed clinical care audits of hundreds of families after one of the most common childhood surgeries. The ongoing post-operative pain issues of children combined with many parents' reluctance to use strong pain relief medications at home prompted the search for effective, natural solutions. The consumer engagement also involved interviews with children and a qualitative parent study.
"The burden of pain management was falling on parents, and they were wishing for non-traditional medication", Professor Regli-von Ungern-Sternberg said.
"We knew that honey has been a valued medication since ancient Egypt, known for its anti-inflammatory, analgesic, anti-oxidant properties, and we thought it would be a good topical treatment for children. It also coats the back of the throat and makes swallowing easier."
The team prioritised consumer engagement throughout the study. Surgeon, anaesthetist and consumer uptake is key to the success of the final product, and this approach has been validated with the award.
"The ACTA awards cover all medical fields and it's rare for paediatric research in a very small sub-speciality to receive it. Our team was super excited", Professor Regli-von Ungern-Sternberg said.
"It shows that our research is consumer-driven and will be really valuable for clinicians, parents and children. It will help gain funding and translate the trial into practice."
The team is waiting for results in two to three months to demonstrate the success of the trial but early feedback from parents has been overwhelmingly positive, Professor Regli-von Ungern-Sternberg said.
The team worked closely with the Cooperative Research Centre for Honeybee Products (CRCHP), small scale producers and beekeepers to include the honey industry in the study. The team also worked in partnership with The University of Western Australia and Telethon Kids Institute, while the CRCHP and the Department of Health WA provided funding.