Research study uncovers evidence to help young patients with rheumatic heart disease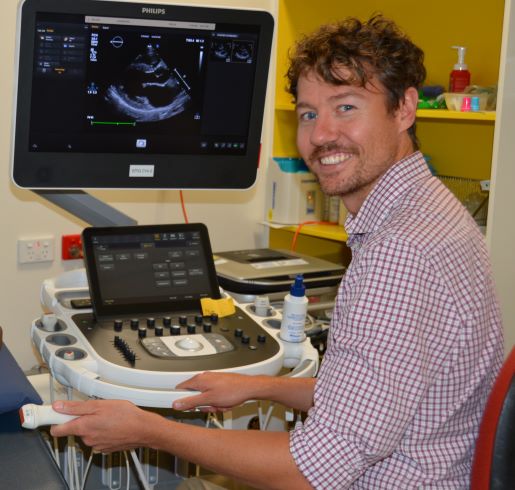 PCH paediatrics registrar Dr Bradley McDonald
A 17-year look-back at more than 500 echocardiograms of WA children and teenagers with rheumatic heart disease (RHD) has revealed important insights into which young patients with heart problems may remain stable without a cardiac procedure or surgery if they experience no further episode of rheumatic fever.
The first of its kind study is expected to inform management protocols worldwide and also assist Perth Children's Hospital (PCH) doctors to get their patients back home quicker to be monitored by outreach clinics – including those from small remote isolated Aboriginal communities who had never left their region before.
Conducted by PCH paediatrics registrar Dr Bradley MacDonald, with results published in the Journal of the American Society of Echocardiography, the research findings are important for WA as Australia has one of the highest reported rates of acute rheumatic fever (ARF) and rheumatic heart disease (RHD) in the world. The highest incidence is in Aboriginal communities, particularly across Australia's northern and central regions.
"From our findings, there is a suggestion that we can be a little bit more relaxed and should now watch and wait in moderate and mild patients," Dr MacDonald said.
"We still have to closely monitor these patients and catch up regularly but from a heart perspective we now know from the study findings that we should not rush into surgery or intervention because their heart inflammation and valvular damage may settle down. Heart function may get better and closer towards normal over time."
In a bid to identify markers for progression of disease and future likelihood of need of a cardiac procedure or surgery, Dr MacDonald's research looked at heart changes visible on echocardiograms through a retrospective cohort study of 146 patients from 2004 -2020.
Focusing on those aged 5 to 14-years-old, at least three echocardiograms were reviewed for each patient to track changes in the left side of the heart, known as left ventricular remodelling. The study is the first of its kind to do this in a paediatric population for ARF and RHD patients.
Rheumatic heart disease develops as a result of an abnormal immune reaction to ARF, which is caused by a sore throat or skin sores resulting from a Strep A bacterial infection.
Typically, the damaged heart valve cannot open or shut properly, interfering with blood flow through the heart. Without treatment in severe cases, the damaged heart valve may continue to deteriorate and lead to permanent disability and premature death.
"The aim of our research was to describe the natural history of the heart over the course of this disease," said Dr MacDonald. "The issue to date is that we know some of the factors that contribute to the progression of disease, but we do not know all of them.
"Through our look-back study of echocardiograms, we are now uncovering this story of the left side of the heart and the heart changing over the course of this pathology."
Dr MacDonald was awarded a Telethon Fellowship in 2019 which provided the initial funding support for this project. This study was also part of his PhD studies through The University of Western Australia School of Population and Global Health. Dr MacDonald is also a member of the Telethon Kids Institute's Strep A and Rheumatic Heart Disease team and Skin team.
He said Australia was well placed to lead research into ARF and RHD, as developing countries with high rates did not have the same tertiary medical facilities to support such treatment-informing studies. Globally, more than 15 million people are estimated to have RHD.
"I have worked in cardiology at PCH and seen the extreme ends of this disease, the impact on families and the challenges that it brings," Dr MacDonald said.
"A lot of our kids that we see are from the Kimberley and it can be traumatic for them spending significant time away from family and social support while in Perth seeking treatment.
"Getting them back home as quickly as possible is important."