Following our Fellows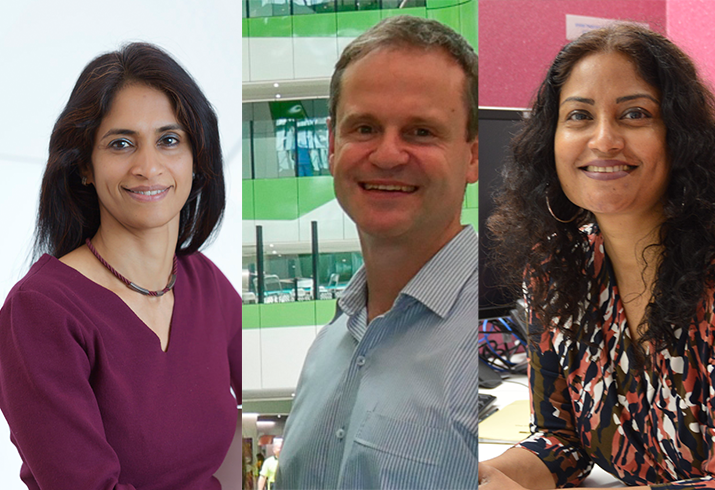 Dr Vinutha Shetty, Dr Andre Shultz and Dr Maina Kava
Ahead of Telethon 2022, we are following the stories of our Telethon Fellows.
These are three Fellows whose trials have gone on to make great improvements in the lives of our patients and families.
Dr Vinutha Shetty
Did you know that exercise is one of the biggest challenges for our patients with type 1 diabetes because of the impact on their blood glucose levels?
But thanks to the support of Telethon Trust, Dr Vinutha Shetty, Endocrinology consultant at Perth Children's Hospital (PCH) is making progress into tackling these challenges.
Dr Shetty was awarded a Telethon Fellowship in 2012 and 2013 to investigate strategies to tackle exercise induced hypoglycaemia in young people with type 1 diabetes.
The Telethon Fellowship program has been supporting clinical research at PCH for more than 35 years.
Dr Shetty said the fellowship strengthened her passion for helping young people with type 1 diabetes exercise safely. It helped her to better understand the gaps in the international exercise guidelines for type 1 diabetes and address those gaps in her PhD project.
The findings from her first study were incorporated into international exercise guidelines, led to several research awards and helped provide a springboard for the development of an exercise app.
"Our clinical trials have shown the app has enormous potential to help our children to exercise safely and confidently.
"I'm excited about the next steps and its potential to assist our patients with type 1 diabetes.

"I'm grateful to Telethon Trust for helping kickstart my research career.
"It made the world of difference to my research and gave me excellent training in developing foundational research skills," Dr Shetty said.
Dr Shetty said she now supervises honours, masters and PhD students, through her leadership of the exercise team at the Children's Diabetes Centre, a collaboration between PCH and TKI.
"Passing on my skills to the next generation of clinicians is enormously satisfying and continues the proud legacy of Telethon research in our health service.
Dr Andre Schultz
Did you know that Australian children who use a spacer or a puffer to inhale asthma medication benefit every day from research generously supported by Telethon Trust.
Our Respiratory Physician Dr Andre Schultz, who is also a Clinical Associate Professor at UWA, used his 2006 Telethon Fellowship to understand how many breaths children, aged below 7, need to take when they use a spacer or puffer to inhale their asthma medication. While the advice may be simple it can make an enormous difference to reducing stress and improving the long-term health of children who are taking these medications. Dr Schultz's findings were adopted into national guidelines and are likely to also likely to inform international guidelines.
Dr Schultz, who is now an internationally recognised leader in paediatric respiratory medicine, said the Telethon Fellowship helped him establish a long-term research career. It allowed him to complete his PhD in 2010 which led to a Raine Fellowship and NHMRC Translating Research into Practice Fellowship and Investigator grant. He is also an Honorary Research Fellow at the Telethon Kids Institute where he leads a program focused on lung health.
The focus of his research work in recent years has been on working in partnership with Aboriginal people to investigate and find ways of identifying children with chronic wet cough in a timely way.
"My ultimate aim is to prevent bronchiectasis in Indigenous people."
Dr Schultz said the best way to learn research is to get hands on experience and supervision from experts.
"That's exactly what the Fellowship provides for one year.
"That dedicated time for research is an enormous benefit because one of the biggest barriers to research for clinicians is time," he said.
Dr Maina Kava
Did you know we have the only specialised neurometabolic clinic of its kind in Australia caring for children with highly complex metabolic diseases with neurological complications?
Neurology consultant Associate Professor Maina Kava was awarded a Telethon Fellowship in 2008 investigating peripheral neuropathy in children who had been treated with cancer chemotherapy drugs. Dr Kava said the fellowship enabled her to continue her training in paediatric neurology. She currently leads the neuromuscular and neurometabolic program at PCH mostly caring for children with rare diseases. She said collaborating with colleagues interstate and overseas and providing improved diagnosis and ongoing clinical care of these children is the key to improving their outcomes.
The neurometabolic clinic she established helps families of children with rare and complex metabolic diseases navigate their medical needs and minimise their number of appointments at PCH. This multidisciplinary clinic provides neurology and metabolic consultations along with dietetics, nursing and social work input.
"Combining clinical care and research has trained me to think of the highest level of care that I can provide to my patients by ensuring they have access to the latest therapies and clinical trials," Dr Kava said.
"My Telethon Fellowship helped me become a complete clinician researcher.
"It has helped broaden my perspective in patient management which means I'm regularly contacting experts in rare diseases around the world and looking at opportunities to enrol patients in clinical trials.
"Thank you to Telethon for the opportunity to complete my training in paediatric neurology which has enabled me to become what I am today," Dr Kava said.