PhD pathway program ensuring bright future for clinical research in WA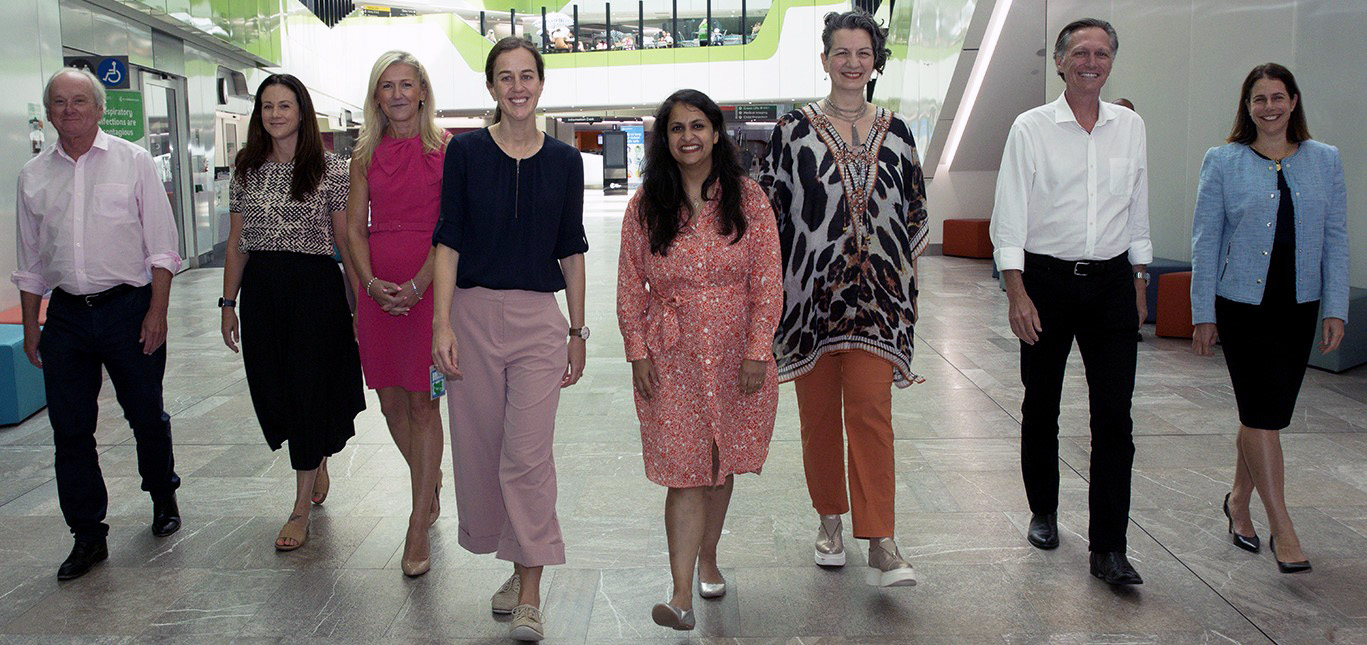 L-R: Director of Research at CAHS Professor Tim Jones, Head of Grants Perth Children's Hospital Foundation Emma Hall, CAHS Chief Executive, Valerie Jovanovic, Dr Fran Gehrmann, Dr Neha Jain, UWA's Pro-Vice Chancellor for Health and Medical Research Professor Romola Bucks, Telethon Kids Institute Executive Director Professor Jonathan Carapetis, Telethon Kids Institute Director of Research Professor Cath Elliott
Two outstanding Perth Children's Hospital clinicians will be supported to pursue a career in medical research, paving the way for more clinician-scientists in Western Australia.
Oncologist Dr Neha Jain and Dr Fran Gehrmann, a Clinical Fellow in Endocrinology, were selected from an outstanding field of candidates from across the Child and Adolescent Health Service to undertake the PhD pathway program.
The program is supported by the Child and Adolescent Health Service, The University of Western Australia, the Perth Children's Hospital Foundation and Telethon Kids Institute.
They will each be supported to complete a full-time PhD, embedded within their clinical work, with mentoring from field-leading researchers at UWA and Telethon Kids Institute.
The five-year program includes intensive mentoring and ends with a post-PhD bridging year to allow the candidates to complete any PhD work or publications, and to secure funding for future research.
Dr Jain will be researching an RNA-based treatment for children with solid tumours, which will aim to target the tumour microenvironment to stop the cancer cells from coming back after surgery.
Dr Gehrmann will investigate new models of care for children with type 1 diabetes using changes in a child's Continuous Glucose Monitoring (CGM) data to target personalised treatment.
Child and Adolescent Health Service Chief Executive Valerie Jovanovic welcomed the initiative and congratulated the inaugural recipients.
"We know that clinical research is one of the important ways we drive better healthcare for our patients.
"We are proud to be part of this collaboration which represents a major step forward for child health because it will support our brightest minds at the start of their research journey," she said.
UWA's Pro-Vice Chancellor for Health and Medical Research, Professor Romola Bucks, congratulated the clinician-researchers.
"We are excited to be supporting these two wonderful candidates to begin their PhD journeys with CAHS, Telethon Kids Institute and UWA," Professor Bucks said.
"It was a competitive process, and we congratulate Neha and Fran for being successful. UWA is committed to increasing the research capacity of clinicians because we know clinician research improves patient outcomes."
Perth Children's Hospital Foundation CEO Carrick Robinson said the Foundation was proud to be a part-funder of the PhD pathway program.
"This will enable talented clinicians like Dr Jain and Dr Gehrmann to learn from the best minds in medical research," he said.
"This program will help to ensure that Perth Children's Hospital continues to deliver world-class expertise and care to sick kids, right here in WA."
Telethon Kids Institute Executive Director, Professor Jonathan Carapetis, said all organisations were proud to support such an important initiative.
"Medical research and clinical practice are closely aligned, so this is an exciting opportunity to support the next generation of clinician-researchers," he said.
"As a clinician-researcher myself, I've seen how incredibly rewarding it is to steward a piece of research from the lab to the clinic, where it can have real-life impacts on the health of our children."
"The commitment of all of our organisations to provide a great environment, along with lots of mentoring, training and support provides the ideal setting for these wonderful, budding researchers to succeed."
Dr Jain and Dr Gehrmann will begin preparation for their PhD this year, with formal studies to commence in 2024.