Helping premature babies survive and thrive with improved nutritional options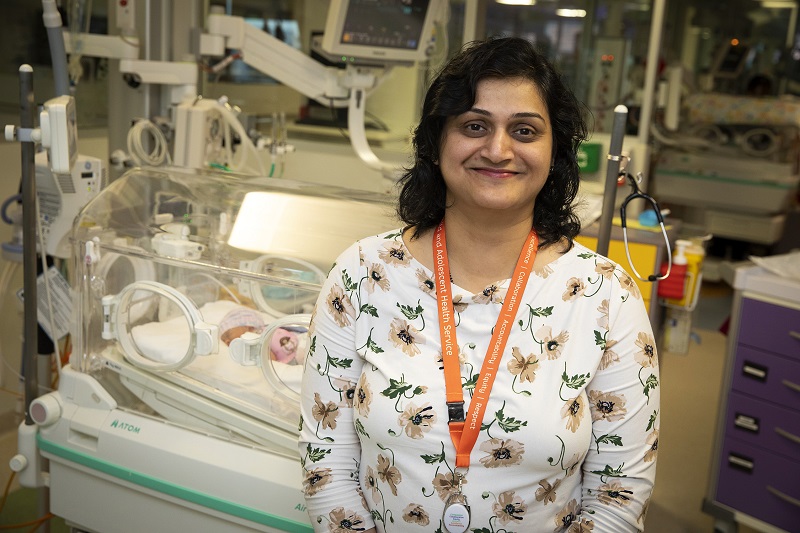 Dr Gayatri Jape, Consultant Neonatologist and Clinical Lead, Neonatal Follow-up Program
The most premature babies in the Child and Adolescent Health Service neonatal intensive care units (NICUs) at King Edward Memorial Hospital and Perth Children's Hospital (PCH) are benefiting from the latest research findings on preterm infant nutrition thanks to the PhD success of Consultant Neonatologist Dr Gayatri Jape.
Dr Jape, who is also clinical lead of the neonatal follow-up program, completed the randomised controlled trial (SiMPro) as part of her recent PhD award from The University of Western Australia (UWA).
Her trial looked at the effect of single or 3-strain probiotic supplement in extremely premature babies (born at less than 28 weeks' gestation).
The trial also examined prevention of necrotizing enterocolitis (NEC), a devastating disease that contributes to significant death and disability in premature babies and the impact on timing for the baby to achieve full milk feeds.
"My research compared the use of different probiotics given to our premature babies to maximise their prospects of surviving and thriving through new and improved nutritional options," Dr Jape said.
The 3-strain probiotic proved superior with decreased rates of NEC. The babies also achieved better oral nutrition and they moved onto full milk feeds faster.
Following the SiMPro study and overwhelming evidence supporting the use of multi-strain probiotics from other parts of the world, the new probiotic has recently been introduced for routine supplementation in the neonatal intensive care units at KEMH and PCH.
It is only used on babies born less than 35 weeks, who are the most vulnerable babies for developing feed intolerance and NEC.
Director of Research at CAHS Professor Tim Jones congratulated Dr Jape on her PhD success.
"It's great to see the results of local research being translated into practice," Professor Jones said.
Dr Jape, who is a clinical senior lecturer at UWA, also completed another small but novel study comparing heat-inactivated to a live 3-strain probiotic in preterm infants. Her preliminary results indicate that both live and heat-inactivated probiotics were equally beneficial.
Dr Jape is involved with another longer-term project to follow up high-risk infants supplemented with probiotics during their most vulnerable time in the NICU.
Dr Jape credited her supervisors Professor Sanjay Patole and Winthrop Professor Karen Simmer AO as mentors throughout her PhD journey.
Th

e Perth Children's Hospital Foundation, Channel Seven Telethon Trust and Centre for Neonatal Research and Education at UWA all funded the

SiMPro

trial and sub-study.