Our researchers shine at 2023 WA Child Health Research Symposium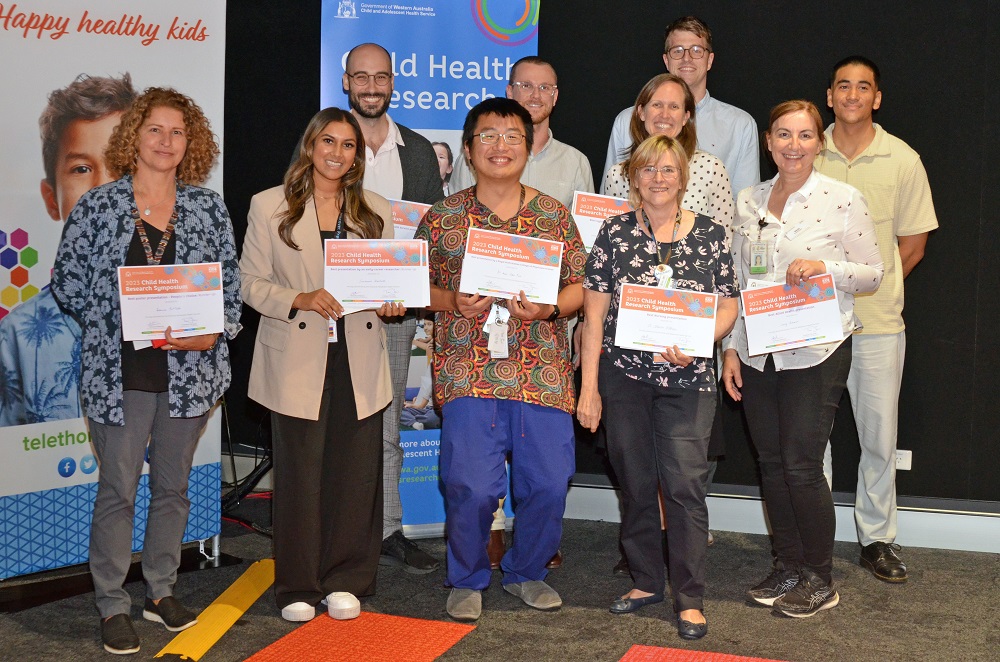 A selection of prize winners and their representatives at the 2023 WA Child Health Research Symposium
Researchers working across the Child and Adolescent Health Service (CAHS) got to showcase some of the exciting research that is taking place across the service during last week's WA Child Health Research Symposium.
They were among more than 200 researchers who presented during the symposium which ran over three days.
The annual symposium, which had returned after a hiatus last year due to COVID-19, has become a highlight of WA's Child Health research calendar.
This year's program featured more than 100 oral presentations and around 90 poster projects and a speaker line-up of local, national and international researchers.
Built around the theme Celebrating Innovation, Collaboration and Translation, the 2023 symposium was presented by the Child and Adolescent Health Service, in partnership with the Telethon Kids Institute.
Prizes were presented for the best presentations of the symposium, with CAHS researchers well represented among the accolades.
Award winners for the 2023 Child Health Research Symposium were:
Dr Bernadette Ricciardo and Jacinta Walton
Moorditj Skin Means Moorditj Health
Best lightning presentation
Maheshwar Bhasin
Non-exclusive colostrum feeding is associated with increased risk of peanut sensitization in one year old infants
The Best lightning presentation - runner-up (joint winners)
Bradley Roberts
Utility of Pharmacogenetic Testing for Youth Mental Health
Keerthi Anpalagan
Staphylococcus aureus Network Adaptive Platform – Paediatrics and Youths (SNAP-PY): A novel approach to including children in whole-of-life infectious diseases trials
Best poster presentation: people's choice
Aiden Boonnark
Elucidating Mechanisms of Late Effects in Children After Radiotherapy for CNS Cancer
Best poster presentation: People's choice - runner-up
Two presentations tied for this award. They were:
Terry Preston
The Aboriginal Cultural Awareness and Clinical Development Training Program
Denise McNab
Child Protection Unit: Medical Evaluations in the era of COVID
Best poster presentation: Peer presenters' choice
Dr Valeksa Berg
The digital identify of young children is in the hands of parents
Best Allied Health presentation
Lucy Simmer
Pain in children with cerebral palsy following reconstructive hip surgery
Best Child and Adolescent Mental Health Service presentation
Jamie Beros
Non-invasive brain stimulation in a preclinical model of adolescent mood disorders
Best presentation by a Royal Australasian College of Physicians trainee
Dr Wei Hao Lee
Study of Paediatric Appendicitis Scores and Management Strategies
Best Nursing presentation
Dr Sharon O'Brien
Evaluation of the impact of site-adapted implementation interventions for reducing the use of low-value investigations and/or therapies for infants with bronchiolitis
Best presentation by an early-career researcher
Jacob Byrne
Prexasertib radiosensitises paediatric medulloblastoma cells by exploiting the DNA damage response pathway
Best presentation by an early-career researcher - runner-up
Savannah Machado
Colostrum - the missing link for successful food allergy prevention?