Meet our speech pathologists: Megan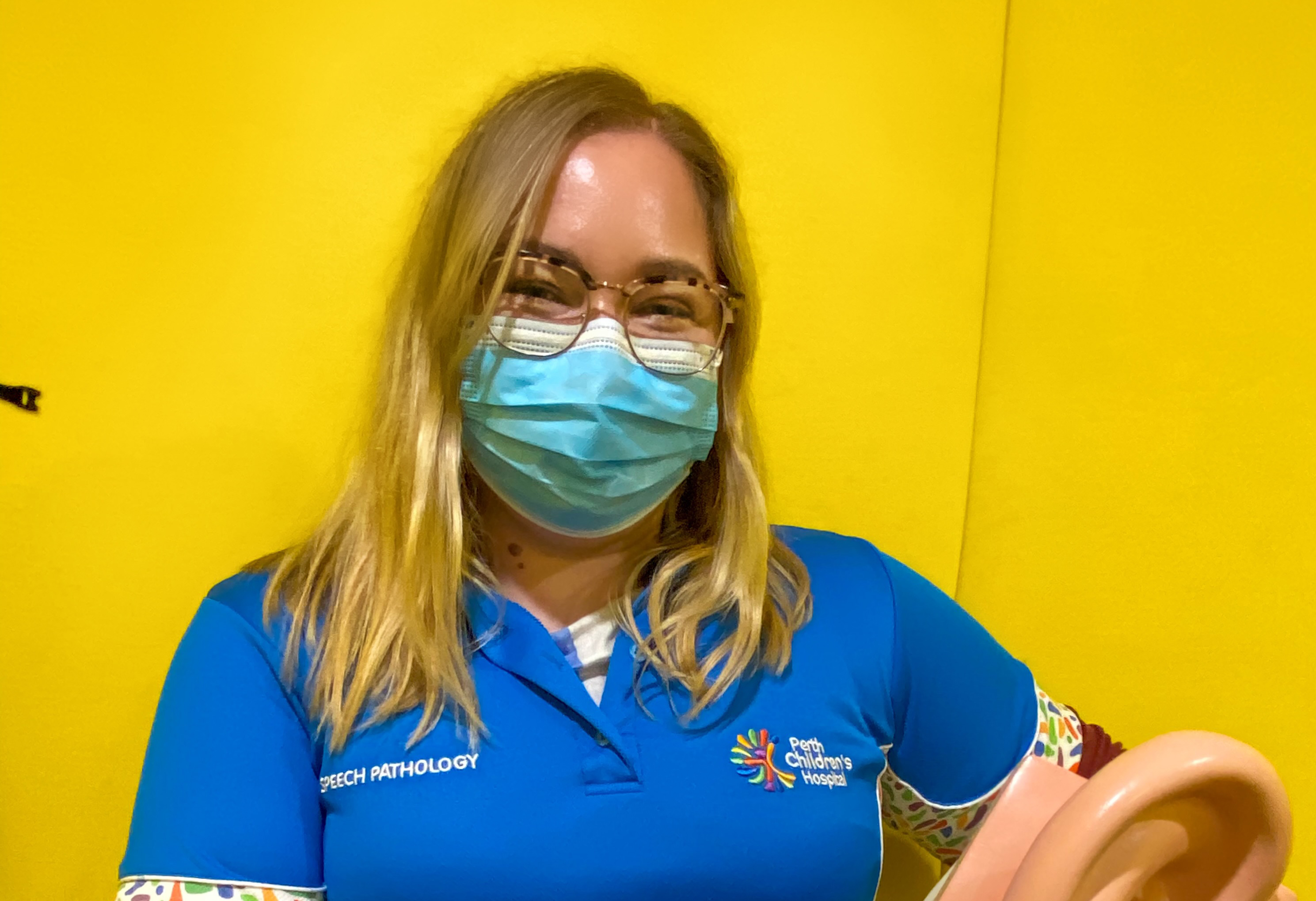 Meet Megan Jones, Senior Speech Pathologist, Perth Children's Hospital.
Tell us about yourself and the work that you do
I work on the Cochlear Implant (CI) and Cleft Lip and Palate (CLP) teams. I see patients from as early as birth on the NICU to when they finalise services at growth completion (sometimes at 18 years of age or older).
My role in CI is to assess and provide auditory-verbal services to children who have severe to profound hearing loss and are candidates for a cochlear implant.
My role in CLP is to assess and monitor children's velopharyngeal (soft palate) function and support their speech and mealtimes which can sometimes be affected by a cleft lip/palate.
Why did you choose to be a speech pathologist?
Many years ago I was worked as a Psychologist in the Autism Spectrum Disorder field and met a Speech Pathologist who was able to engage and support children in a completely different way than I was taught. I really wanted to work with children and their families to develop meaningful communication, so I re-trained as a Speech Pathologist and it was the best decision I have made in my career. I have previously worked in the WA Country Health Service in Esperance and Derby and in Perth with NDIS providers and now I'm at PCH, and I still really enjoy working towards family and child centred goals around communication and mealtimes.
What does a typical workday look like?
I mostly see children and their families as outpatients, which means they travel in to Perth Children's Hospital from their homes for appointments. Both the CI and CLP teams are the only programs in WA so we have children who travel in to PCH from all across WA.

In CI, I work in a team of two other Speech Pathologists, Audiologists and ENT doctors. We provide family education and assessment services to confirm children are candidates for CI and prepare them and their families for surgery.
CIs aren't like hearing aids which amplify sound, they replace thousands of cochlea hair cells with 22 electrodes which stimulate the nerve to make a new digital 'sound' – most children don't even recognise this signal as sound at first! We then see CI patients regularly following the CI switch-on to help them pay attention to and make sense of this new sound. We are also currently completing a CI project to expand our range of resources for culturally and language diverse families including social stories and standardised therapy resources. I love watching kids learn to use their new CI ears!
The other half of my day is working with children with a cleft lip and palate and their families. In CLP, I work in a team of three other Speech Pathologists as well as a wider CLP team which includes Plastic Surgeons, ENT Surgeons and Dentists. In CLP, we provide feeding services in patients' early years as babies with a cleft often need a special bottle to be able to feed. As the patients get older we support them through their cleft surgeries and then assess their soft palate function and provide therapy for speech sounds affected by the cleft. I get to see the CLP kids grow from tiny bubs to big teenagers which I love!
What inspires you?
I have always enjoyed working with children and their families, but my time at Derby Hospital really sparked an interest in hearing loss. I am very thankful I get to work in two caseloads at PCH where hearing loss is central.
My favourite appointments are cochlear implant switch-ons. This is when the outside processor is programmed and turned on for the first time. While most children can't 'hear' through the CI at first, all switch-ons are full of excitement and love as families get to see their children process sound for sometimes the first time in their life.