Take the next step in your Clinical Neurophysiology career at PCH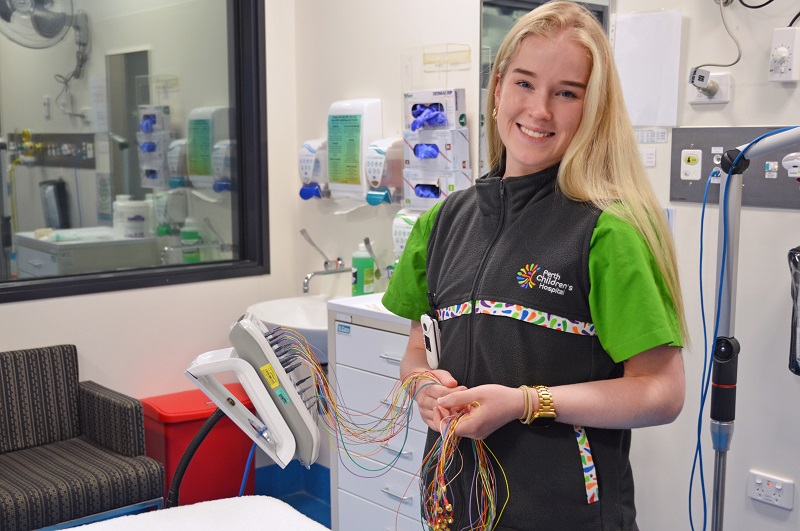 Perth Children's Hospital Clinical Neurophysiology Scientist Bonnie Perron
Perth Children's Hospital (PCH) has Western Australia's only team of paediatric Clinical Neurophysiology Scientists, and we're looking for experienced technologists to join our team.
Our clinical neurophysiology scientists play a crucial role in assisting our neurologists and neurosurgeons in assessing how a child's nervous system is functioning, conducting tests to monitor bioelectrical activity to diagnose and manage conditions including epilepsy, stroke, multiple sclerosis and traumatic brain injury.
The diagnostic tests conducted within the PCH unit include:
Electroencephalograms (EEGs)
High density EEG (HDEEG)
Somatosensory Evoked Potentials (SSEPs)
Visual Evoked Potentials (VEPs)
Brainstem Auditory Evoked Responses (BAERs)
Nerve Conduction Studies (NCS)
Intraoperative Monitoring (IOM) during brain and spinal surgery
EcOG
The team also provides a satellite service at nearby King Edward Memorial Hospital, performing Neonatal EEGs for preterm and newborn babies in intensive care.
Meet our expert team
We caught up with two of our Clinical Neurophysiology Scientists, Nicki and Bonnie, to find out more about this highly skilled team.
Nicki is a Clinical Neurophysiology Scientist who has been working in the field for 8 years.
Describe a typical day in your role
We perform many EEGs in our department every day. They are the primary test that we provide.
During an EEG, we apply up to 64 electrodes to a child's head in specific places and record brainwaves while the children are awake, drowsy and asleep, monitoring real time brain activity.
What do you enjoy about your role?
Our job is very rewarding. To see the children evolve in their epilepsy journey is incredible. To see kids come out the other side and be seizure free is the most rewarding thing we can witness at work.
I'm proud to be a part of the service we provide.
Bonnie is a Clinical Neurophysiology Scientist. Having joined the neurophysiology department four months ago, she's enjoying being part of a supportive team who are investing in her career development and her role's unique connection with young patients.
What's the best thing about being part of the PCH neurophysiology team?
There are endless aspects I love about this role! Two of the greatest things are the people I work with – my colleagues in the team – and having the opportunity to work with children.
Meeting our patients is the best part of my job, the kids always make me laugh and make each day a new experience. Children bring light and entertainment that you wouldn't normally experience in the adult world. I never get bored!"
As this is a niche field, the team is small. We work very closely together, and my colleagues and mentors push me to further develop my skills with encouragement and support.
What are your future career goals?
There are so many procedures to learn and master, so there's a lot of opportunity to learn and develop and advance my career goals.
I aspire to become experienced and proficient in all forms of testing within the department and one day aid in neuromonitoring during surgeries.
What would you say to someone considering a career in paediatric clinical neurophysiology?
I couldn't recommend paediatric neurophysiology enough. No two days are the same.
Our work is invaluable in supporting our doctors to make informed and appropriate decisions to help our patients. It's very rewarding to be part of a child's recovery process.
Don't miss this exciting and rare opportunity to lead our highly specialised Neurophysiology team and enjoy the amazing benefits of the Perth lifestyle.
Applicants should possess tertiary qualification in medical sciences, clinical sciences, physiology, biomedical sciences or nursing, and be eligible for membership of the Association of Neurophysiology Scientists of Australia Inc. (ANSA Inc) and a post-graduate qualification in Clinical Neurophysiology.
Demonstrated extensive knowledge, experience, and competency in all aspects of Paediatric Neurophysiology services.
Covering your relocation costs
We offer generous initiatives to support your move to Western Australia which includes travel exemptions and financial incentives for eligible applicants to cover flight and relocation costs as well as visa sponsorship.
Please see Child and Adolescent Health Service | CAHS - International applicants
Our FAQ page including eligibility requirements, is available here.